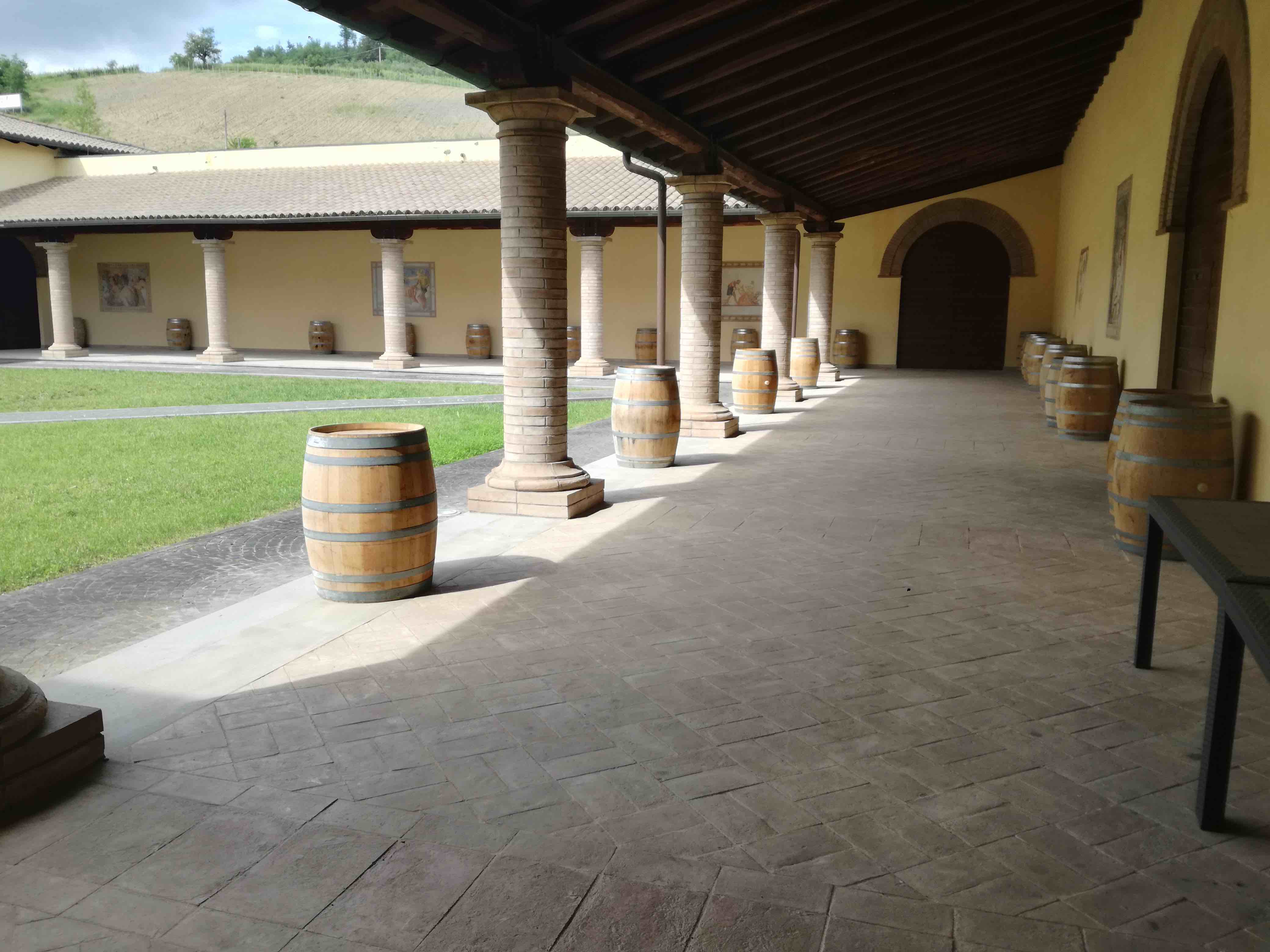 With the arrival of September, Fornace fires up ready to face a new season, a new chapter full of challenges and experiences in which we will travel new paths, test new materials and much more. It is also a time to reflect on our most recent work and tell you about some particularly lovely projects.
The same red terracotta, but with a different finish.
Among the projects we have worked on within the last few months, one of the most interesting was the renovation of a wine cellar nestled in the countryside and Umbrian hills, near Orvieto. The structure was enchanting, surrounded by vineyards as far as the eye could see. It is a place where modernity and tradition go hand in hand to produce wine, fully respecting the environment.
To renovate the floor, we decided to use a type of terracotta that fits perfectly in this corner of Umbria: rose terracotta.  Rose Terracotta  is widely used in traditional Umbrian buildings and is the most suited to cladding and floors in old country homes, historic edifices and churches. It is perfect both indoors and outdoors.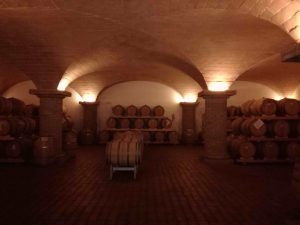 To enhance the magic and charm of this location while at the same time finding a practical and functional solution we suggested sanded pink terracotta for the internal spaces. The difference between pre-sanded and post-sanded terracotta is that the former ensures a soft homogenous surface without changing the original appearance of the tile.  It is an ideal solution for old floors which need limited maintenance. In addition, we applied several protective natural wax treatments that as well as guaranteeing increased durability, produce a warm, intense colour.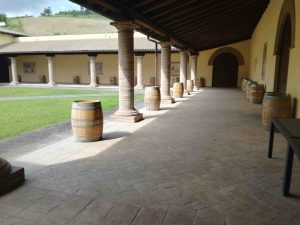 For the external areas, particularly around the sides of the vineyard's beautiful central courtyard/cloister, we chose a slightly lighter terracotta which worked beautifully with the walls. In this case, the rose terracotta tiles have a more rustic appearance and, unlike the tiles laid inside, the effect is more natural and is in perfect harmony with its surroundings. 
Laid "up-side-down"
The second project which I would like to tell you about was carried out near Lake Bracciano where we renovated a studio apartment for a roman painter. This private space is particularly distinctive, being where creative ideas are collected and everything links to the world of art.
The idea which first came to mind was to use a type of flooring that would highlight the distinctiveness of the space, creating warmth and playing with nuances of colour that are typical of the red and rose clays.
We recommended a classic red terracotta with a warm colour but with an unconventional way of laying the tiles. Laying them up-side-down the handywork of the artisan is more evident. Subtle variations in each tile not only emphasis the uniqueness and craftsmanship in each tile, it also enabled us to be decorative. It made a big impact. We also played with creating borders to frame a mosaic of tiles which created a really interesting effect.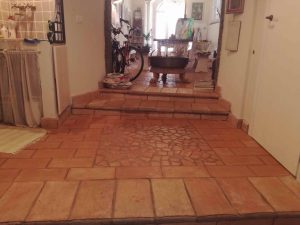 It was this project that concluded a busy working period, at times frenetic and tiring, but always full of satisfaction. Here at the Fornace we are ready to start the autumn with several new offerings: new clays, unusual colours, and novel techniques, but that's all I want to say on this matter for the moment. Stay tuned!