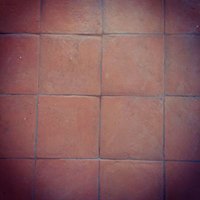 Red Terracotta
Where can you find Red Terracotta flooring, and what are its characteristics?
When we talk about red terracotta tiles and bricks, Tuscany usually springs to mind. This can be no surprise as this region is an example of excellence in terms of 'Made in Italy' tiles. Naturally the principle characteristic of these floors is their red or red-pink colour. The specific shade depends on where in Tuscany the clay was quarried. For example, clay from Siena has a slightly more vibrant red than clay coming from Florence, which tends to be a deeper red.
It would be wrong to think that Tuscany is the only region that excels in the production of red terracotta. Just think about the northern cities and their historic city-centres (Milan, Mantova, Bologna), the buildings stand out because of their red clay bricks.
So, from a geographic perspective, red clay originates from Tuscany and northwards.  So what makes a floor made from red clay tiles so special?
While some people have concerns that the colour red is too dark and will darken a  room. in reality, the colour of our clay is a vibrant red which brings a warm hue without darkness., With a natural wax treatment, which is transparent and water-based, it maintains its colour and protects the floor.
One of the main characteristics of red terracotta is that it enriches a room's atmosphere and makes it feel warm and welcoming.
For a quote and to receive a free sample pack, please contact us.
Fornace Cotto Antico Italian S Tile